KAS SERENITY
Rhythm, Ambient, R&B, & Electronic Music
Producer, songwriter and bandleader KAS has recently gone solo with his new group, KAS SERENITY. This band is a synthesis of twenty years of musical sound combining contemporary jazz, Ambient, R & B and Electronic Groove. KAS SERENITY band features national musical recording and performers: vocalist MIYON TRAYMANE, along with; alto saxophonist, FARUQ Z. BEY; Detroit guitarist, RON SMITH, best known for his work with Enemy Squad, P-Funk, and ON-XYZ; and pianist and Techno/Drum and Bass producer, GETER MOST (Funk Lab, Detroit). SERENITY has one of the most dynamic sounds heard today. It is a show not to be missed. Live the band blends R & B soul beats into what is today called Rhythm & Ambient or Acid Jazz. The group has opened shows for hip-hop artist, Missy Elliott; the R&B girl group, Total; Morris Day and The Time; Little Milton; Dionne Warwick, The Delfonics, and others. They have performed throughout the USA, including, the African World Festival (Milwaukee), and African-American Festival of the Arts (Chicago); and the African Street Festival (Nashville). Their music has been played on numerous radio stations including, WDET (Detroit), 105.9 (Detroit), and VJAZZ 98.7 (Detroit). Their hit instrumental tune, "7 Mile Road" was played on WGRP (Detroit) and used on the sound track for the film, MOVING TARGET (Distributed by Maverick Productions) and currently available nationally.
KAS begin his musical career with the band "ONYX" in 1978, and produced many of their hit recordings. KAS has played and/or studied with many of the great musical talents of Detroit, Michigan--George Clinton, David McMurray of "Was Not Was," David Miles, and Tanni Tabal. KAS's musically rich heritage began at the Cass Technical High School Music Department (Detroit, MI) with teachers Harold McKinney and Marcus Belgrave, and fellow students, such as, Greg Philingame, Kevin Toney, Ralph Armstrong and Marian Hayden. KAS continued his musical studies with jazz/theory instructor and saxophonist Faruq Z. Bey and Charles Boles, and the late Ali Mohammed.
As a member and keyboardist with ON-XYZ, KAS produced their many record releases, including, YOU GOT SOUL, CD, (2000); Right Now, CD (1993); Primal Electric, EP, (1988); Womb Music, EP, (1985); and Dread Wave, 12 Inch (1981) [all on Popp Records]; as well as, Rock and Jam, 45 Single, (1980, Solar Sudanese Records). ON-XYZ is a band known widely for its characteristic "sledgehammer sound" (hard-driving bass guitar and drums) with about 70% dance rhythms and messages of social and political change and spiritual upliftment. ON-XYZ continued on through 1999, with four spin-off groups forming as a result of KAS's single-handed persistence in establishing the reggae scene in Detroit; the groups are: "Jonab," "Akoben," and the "Makka Rhythm Tribe". In 1985, KAS produced the R & B soloist, "VIRGINITY," and released, VIRGINITY, EP, (1985, Popp Records), Fashion Dance, EP, (1988, Popp Records), and Body Rock, 12 Inch, (1986, Sutra Records).


From 1982 to 2001, KAS also produced the heavy metal band, "Cherubim", which toured with George Clinton's "Parliament and the Funkadelics" and KAS also did a solo tour of Japan. Their records included, Cherubim, Rock and Roll and Light and Darkness, LP, (1983, Unreleased). In the world music category, KAS also co-produced and co-directs the "Earth Island Orchestra" in live concert performances and for the band's recent record release, titled, Earth Island Orchestra, (CD, 1991). The Orchestra is a 13-member group including some of the top ranked musicians from the Metro Detroit area, representing the traditions and sounds of countries from Asia, North Africa, Europe, North America and the Caribbean. One of his most recent music project is a new CD album titled, Between 2 Seas (POPP) which he produced and mixed and also performed keyboards.
KAS Serenity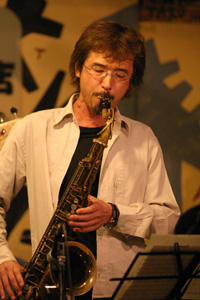 Yutaka Handa, Musician from Tokyo, Japan Performed on KAS CD/Album, Return to Rainbow Bridge